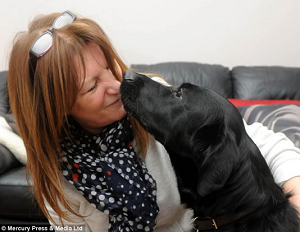 A guide dog trainee named Nell moved to the head of the class when she saved the life of the women who's been caring for her during training.
According to the UK's Daily Mail, the 17-month-old pup is living with Lesley Hailwood while she goes through guide dog training at a nearby guide dog center.
One evening, Hailwood put a piece of chocolate in her mouth, which immediately became stuck in her windpipe. "And it didn't seem to matter what I did, I couldn't get rid of it. I was choking."
Click here to read the complete story.