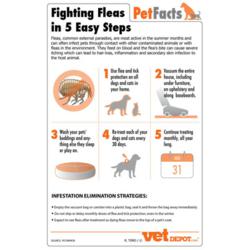 Encinitas, CA (PRWEB) August 23, 2012
Many pet owners can attest to the fact that flea infestations are an itchy, irritating, and frustrating situation. Fleas can lead to severe itching, hair loss, inflammation, and infection in pets. To help pet parents win the war against these pesky parasites, VetDepot has released a simple Fighting Fleas in 5 Easy Steps infographic.
Fighting Fleas in 5 Steps:
?Use flea and tick protection on all dogs and cats in the home:
A flea problem in a multiple pet household can quickly spiral out of control. Using flea prevention on all animals helps prevent the spread of fleas from one pet to another. Monthly topical products like Frontline Plus or K9 Advantix are an easy way to prevent a serious infestation.
?Vacuum the entire house:
When vacuuming, it?s especially important to get under the furniture, on the upholstery and along the baseboard. Thorough vacuuming helps get rid of flea eggs before they become larvae.
?Wash pet bedding:
A pet?s bedding is an excellent place for fleas and parasites to make their home. Protect against an infestation by regularly laundering all pet bedding.
?Don?t forget to re-treat:
Providing flea and tick protection for all animals in the home is the first step, but not forgetting to reapply is just as important to prevent re-infestation. Pet owners should mark the reapplication date on their calendars to make sure this important step isn?t skipped.
?Continue treating monthly all year long:
Depending on the state, flea season can range anywhere from 6 to 12 months of the year. However, it?s likely that adult fleas can still survive on an untreated pet in a warm home even during the cold winter months that aren?t considered peak flea season. For this reason, year-round flea prevention is essential for defeating fleas for good.
About VetDepot: VetDepot offers the very same pet products available from your local veterinarian with savings of up to 60%. All VetDepot products are backed by their 100% Satisfaction Guarantee. VetDepot is LegitScript certified, has an A+ rating with the Better Business Bureau and is committed to low everyday prices and excellent customer service. Check out their website at http://www.vetdepot.com or call their toll free customer service line at 866-456-0400. Give your pet the BEST!?